Our Operation: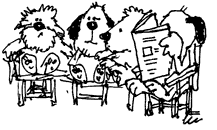 We have been breeders of Bichon Frise dogs for the past twenty-five years. We have bred numerous champions and currently have several dogs out of our breeding in the show ring.
Kay is retired as Data Manager for the cardiac surgeons at Mercy General Hospital and is now working at home as a transcriber for Regional Cardiology Associates, and is the former secretary of the Bichon Frise Club of Northern California, and is now serving on the Board of Directors. She has been a member of the Bichon Frise Club of America since 1995 and also a member of the Sacramento Council of Dog Clubs. In 2006 our daughter, Kathy Smith, joined us in our dog business. She first started helping with grooming our client dogs, and then got her first puppies which were shown in conformation to their championship.
Our first Bichon, "Snuggles", was a gift to me from my boss. She totally changed our lives. We had never been "breeders", nor had we shown dogs that we had owned previously. Fortunately for us, we met a Bichon breeder by the name of Virginia Boswell. She took us to our first match and then gradually introduced us to the art of showing dogs. We bred Snuggles and kept our first puppy, Sugar, who was a beautiful little bitch. However, we spoiled her so badly by constantly picking her up and holding her like a baby that our handler sent her back to us after two weeks and said to just "breed her".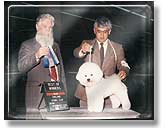 We took his advice and bred Sugar and kept our "Lancelot" who was our first home-bred champion.
This time we tried not to spoil him and placed him with a professional handler at the age of 10 months. He showed beautifully and never lost a show while he was being shown by Paul Flores. Lancelot was with us for almost fifteen years and went to the "Rainbow Bridge" on December 31, 2004. He, however, left a wonderful legacy. His name is on the pedigree of over two hundred champions, including Ch. Paray's I Told You So, ROMX (Buster); who was the number one Bichon in the United States for four years in a row.
Because Lancelot was MISDIAGNOSED of having PRA (Progressive Retinal Atrophy)– which is a heritable eye disease that causes blindness, we neutered him immediately after he was misdiagnosed. One and one-half years later we learned that he did not have PRA. We became very active in promoting Canine Eye Registry Foundation clinics where dogs could have their eyes examined by a veterinary ophthalmologist on a yearly basis. Since the Bichon Frise Club of Northern California holds an annual Day In The Park, as a fundraiser for rescue, this was the ideal place to encourage C.E.R.F. examinations and we have made this our project each year. We would bring our motorhome to the event and arrange for a veterinary ophthalmologist to do the examinations. We annually had approximately fifty dogs that underwent examinations at these clinics. Our dogs undergo an annual Canine Eye Registry Foundation examination. We feel the C.E.R.F. clinics are Lancelot's Legacy to the breed.

Following Jim's death in 2008, I gave our son our motor-home. It is no longer available for C.E.R.F. clinics. Our puppies are examined at 8-9 weeks of age...Adult dogs undergo x-rays for the Orthopedic Foundation For Animals to screen for elbow and hip dysplasia, and yearly exams to screen for patellar luxation. They also have their eyes examined yearly to screen for heritable eye disease. While these conditions are not a big problem in Bichons, we want to prevent it by NOT breeding dogs with hip problems.

Needless to say, after having such a wonderful champion, as our Lancelot, we became hooked on showing dogs. For many years we spent many weekends at dog shows and have produced many champions. We have also met many wonderful people who have purchased our dogs and still maintain contact with us. We also groom Bichons for other people in our "spare time".

We breed two to three litters a year. Our puppies are raised in our home in Fair Oaks, California, which is a suburb of Sacramento. They are born in our bedroom and stay there for the first several weeks of life, after which they move down to the family room where they can visit with all of our friends and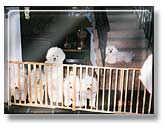 Jim's voice students.
All of our breeding stock is show quality and are either champions of record or are being shown to their championship.
Our puppies usually leave home at approximately 10-12 weeks of age. We examine them to determine which puppies will be "potential show" dogs and who will go out as "pets" at eight weeks of age. We use the term "potential show dogs" because it is impossible at this young age to guarantee a puppy will grow up to be show quality. "Show" dogs are sold on a very strict contract that requires them to be shown to their championship either by the owner, or us prior to their being used for breeding. They are co-owned by us as long as they are unaltered and being used for breeding, following obtaining their championship. In our opinion, "show dogs" are simply "pets" who go to shows on the weekend. When we sell a puppy as a "potential show dog" we make a commitment to help the new owners in learning to care for the coat and in training the dog for show. If they live reasonably close to us we also show their dogs for them or encourage them to do their own handling. When appropriate, we encourage them to place their dogs with a professional handler, and assist them in any way we can.
The year 2004 was a particularly successful year for us. We were named Breeder of the Year in 2004, along with Paul Flores and Lorrie Carlton. All of us were the breeders of twelve champions that completed their championship in 2004. We were also the breeders of two bitches that tied for Dam Of The Year, Ch. Kay's Princess Cosette, ROM, and Ch. Sasikay Hit Paray, ROMX.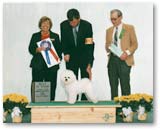 Bis Ch. Paray's Pop Star - Ringo
We were also the co-breeders of our first Best In Show dog, Ch. Paray's Pop Star, owned by Dave and Kathy Keator Lowe. Our Sally, Ch. Kay's Encore of Salome, received her ROMX at the National Specialty in 2005, and Amadeus (Ch. Sasikay Saks Wunderkind) received his ROM. ROM is Registry of Merit. This is awarded for producing a certain number of champions. ROMX is Registry of Merit Excellent and is also awarded for producing a larger number of champions. The years 2004 and 2005 are going to be a hard act to follow, but we're going to try.
Imagine our pleasant surprise when we received the Fall issue of the Bichon Reporter, 2007, and discovered we were the #2 breeder of the year for the year 2006. This is based on the number of champions finished in 2006. One other honor we received was to be interviewed for the Bichon Reporter magazine for the Fall issue. There are nineteen pages on our kennel with pictures of our dogs. In 2007 we were the breeders and co-owners of the Dam Of The Year. One of our dogs currently living in Sweden, Ch. PaRay's Plot Point, Bailey, won his first Best In Show (BIS), and another dog, Ch. Sasikay Fairchild Bocelli, out of our stud dog, Mario, won BIS in Mexico. And the beat goes on…
We like to start our puppies showing at an early age so they learn to like showing. Therefore, you will frequently see us in the ring with a 6 month old puppy. This is lots of fun for both the puppy and for us - and of course for the puppy's owners.
"Pets" are puppies that we feel have a trait that we don't want to breed into our line. It can vary from being slow in developing pigment to having an under-bite or being longer than we like, etc. Because we produce so many excellent quality show dogs we can afford to be very choosy about which dogs are shown and subsequently bred, and which dogs are sold as pets on a spay/neuter contract with limited registration. There is a very strict penalty for using a dog for breeding in violation of our contract. All of our puppies are co-owned until they have been spayed/neutered, at which time we will sign off as co-owners.
In 2006 our daughter, Kathy Smith, joined us in our dog business. She first started helping with grooming our client dogs, and then got her first puppies which were shown in conformation to their championship. The timing of this merger was very fortunate especially since Jim passed on 12/31/2008 following surgery. Having the dogs at home was very important to me since it gave me a reason to get up in the morning but it was a lot of work without Jim to help. Jim was the love of my life and he is greatly missed. We have now been the breeders of over 100 champions in conformation. Kathy and I rarely get to go to the shows because of the grooming business and/or having puppies at home, but we have had excellent handlers over the years, Bill and Taffe McFadden, as well as Dennis and Katey Thompson-Brown. Now that Kathy is breeding and showing her dogs she has also joined the Bichon Frise Club Of Northern California and is currently the Corresponding Secretary and chairman of the "Bichon Day In The Park" this year. This is a fundraiser for Bichon Rescue and one of the club's two major function held each year. Life goes on, even when you aren't sure you wanted it too. And our Bichon business also goes on. When I am ready to stop breeding, grooming, and babysitting it is nice to know the Sasikay line will continue in the very capable hands of Kathy.
We provide information to prospective owners regarding the care and training of the Bichon puppy, and also provide ongoing "technical support" for the entire life of the dog.
Here is our Dog Return Policy.
We do not ship puppies so prospective owners need to plan a trip to Fair Oaks, CA if they want one of our puppies.
We feed Flint River Ranch kibble.